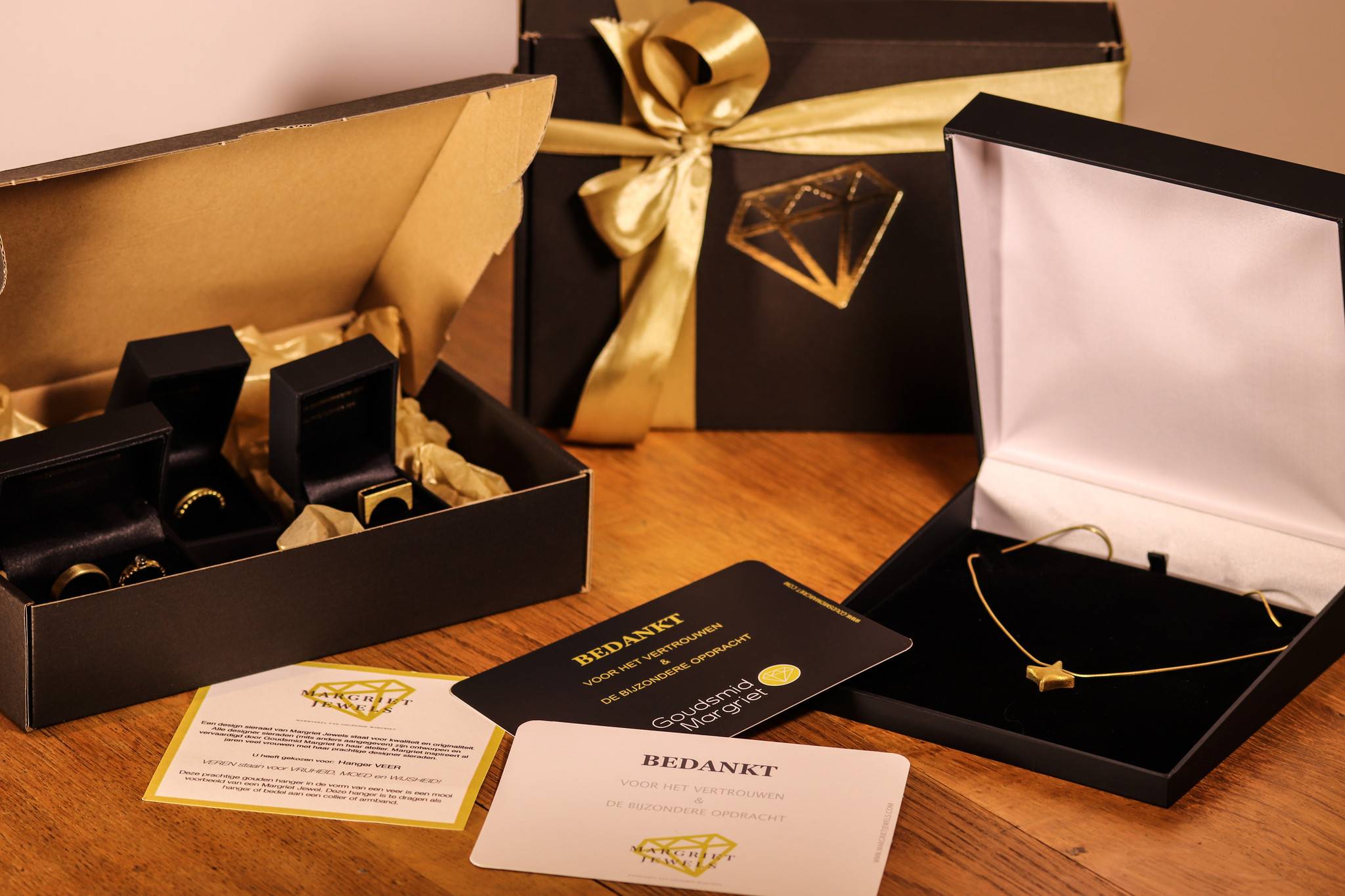 Everything you need to know about RHODIUM PLATING of jewelry
Rhodium plating
Why are WHITE GOLD and SILVER jewelry rhodium plated as standard?
Gold is won in the beautiful golden yellow color. Now, for years, different colors of gold jewelry have been for sale, including white gold jewelry. To get a white gold color, the original yellow gold must be alloyed, not only to determine the number of karats but also for the color. White gold used to be often alloyed with nickel. Nowadays, much more palladium is used, because white gold with (a lot of) nickel, in connection with the nickel release, may only be used within the European Union under strict rules. So-called hybrid white gold alloys are now used, which contain both nickel and palladium. The use of nickel has the advantage that it produces a much whiter alloy than an alloy with palladium.
Usually, a rhodium finish is applied for a whiter shine. That process is called rhodinization. This layer wears off with use, revealing the true color of white gold again. It is often claimed that the layer of rhodium ensures that the piece of jewelry is less sensitive to scratches and therefore also wears less, but that is only true to a very limited extent.
The gold content of a gold object is indicated by the term "karat". White gold of 14 karats is worth the same as yellow gold of also 14 karats. A white gold piece of jewelry can be more expensive to purchase because it requires more actions to make and also because of the relatively high price (exchange rate) of the palladium used (family of platinum). 
Goudsmid Margriet's conclusion: 
I work quite regularly with 14 and 18-karat white gold. Wonderful to work with. It does require some different skills than the most commonly used yellow gold, but the end result is there. Many of my clients who opt for white gold also love silver.
My experience with white gold is whether it is 14 karat or 18 karats it has a beautiful white unique color that only white gold has. The layer of rhodium is temporary and has no added value.
ALL jewelry from the MARGRIET JEWELS brand are NOT rhodium plated!!