Looking for a qualified and experienced goldsmith? Master Goldsmith Margriet helps you design and create your unique jewel!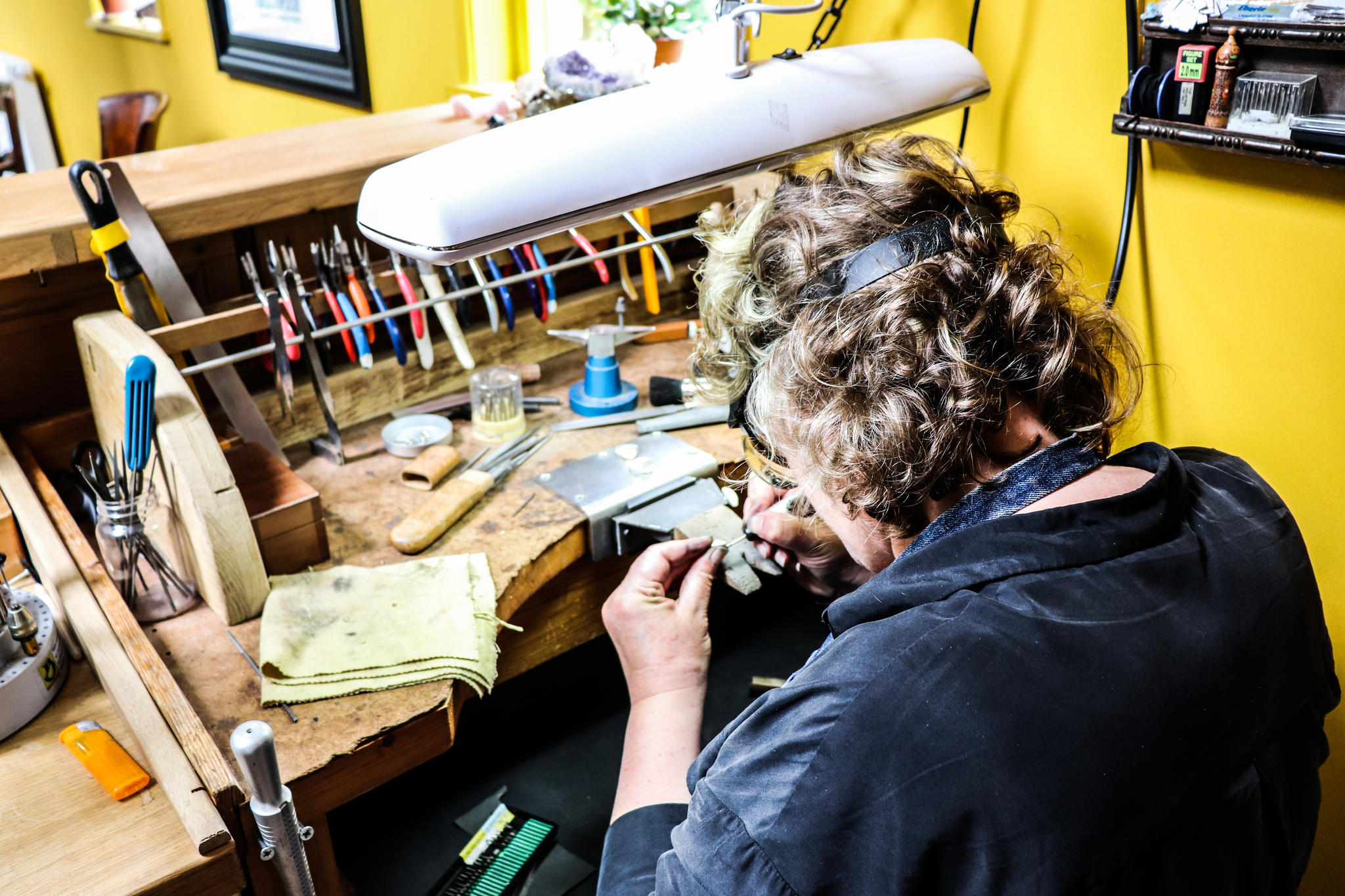 A goldsmith is a specialized metal worker who is engaged in the manufacture of jewels and other art and ornamental objects of precious metals, such as platinum, gold and silver. The word blacksmith refers to the forging and working of metals with a hammer and an anvil. Goldsmiths are often as independent entrepreneurs. However, they can also be in paid employment. The goldsmith profession is an artistic profession. A goldsmith often also processes other types of materials in his objects, such as diamonds or opals. An item made by a goldsmith is unique at all times, making the products often expensive. The cost is created because many expensive materials are used of high quality. An object can also be cast if necessary. A goldsmith often makes jewelry that is in limited editions or even only once.

Work method of the Goldsmith
The goldsmith works on behalf of a client who wants a special piece of jewelery. A goldsmith can manufacture various kinds of jewelry for the customer. Think of wedding rings, bracelets, ear jewels and pendants. All these jewelry will be made for you by hand and in a traditional way. In most cases, finding a design takes place between the customer and the goldsmith himself. Good design is very important. Designing and manufacturing is also often the most costly part of the process as it contains a very labor-intensive job. A goldsmith always works with very expensive materials (platinum-gold-silver). The price is therefore very dependent on labor and material. The advantage of your own design is of course the originality that comes with it.

Gemstones
In almost all jewelry of platinum gold or silver there is a gem. The goldsmith must therefore also be at home here. The goldsmith must have a lot of knowledge about the properties of gemstones. Think of the 4 C's (CUT cutting, COLOR color, CLARITY purity, CARAT weight)
The most used gemstones are: Diamond-Emerald-Ruby and Sapphire. Treating these gems is a very important skill of the goldsmith. Goldsmith Margriet is very experienced in this.
Skills Goldsmith
A goldsmith must of course have a very broad knowledge of the types of materials that are available. The goldsmith must also have the skills to be able to process all these materials. The goldsmith must also know which decorative techniques are available and must be open to new developments. Often a goldsmith has a certain specialization, this can be in, for example, putting gemstones, hand graving, enameling, floating, pouring etc. Goudsmid Margriet specializes in setting gemstones and designing and manufacturing memorial and ashes jewelry.

Master mark 
The Master mark is a unique responsibility symbol that every Gold and Silversmith must provide in his or her work before submitting it to the Warranty for inspection. The master mark of Goudsmid Margriet consists of her initials (Margriet Schouten) and the daisy, which also comes back in the logo. When a new article of precious metal is offered for sale on the Dutch market, this item must also have a registered / manufacturer's mark registered in the Netherlands in addition to a label/certificate number valid in the Netherlands. This sign indicates the supervisor who is responsible and legally competent for placing the object on the market. The master marks are all unique and registered in the guaranteed register. More information about Keur / content signs

About Margriet Jewels
In 2016 Goudsmid Margriet started with a unique webshop. This webshop is called Margriet Jewels. In this online store, you can always go to a large collection of craft jewelry.
The Gràdh and Reijn collections are designed by Margriet and manufactured for you in a traditional way. The Plain collection is purchased by Goudsmid Margriet and carefully selected for quality and price. All attributes and parts have been carefully selected by Margriet. Margriet Jewels offers you the following collections: birth jewelry, wedding jewelry, and memorial jewelry. A niche where Margriet distinguishes herself from others is that in the memorial jewelry ashes or hair of the dear or deceased can be processed. With wedding rings, there is the possibility to place fingerprints on and on the inside of the ring.